Holiday Style Tips with Mary Alice Stephenson
Loading the player...
Broadcast Quality Videos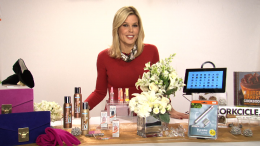 Embed code:
Copy (Ctrl-C or Command-C) and paste (Ctrl-V or Command-V) the code below to embed this video onto your site.
Images are available under attribution license - You must attribute LifeMinute.tv in any work or website that uses this image.
The Holidays are upon us! Beauty and fashion expert, Mary Alice Stephenson has the perfect style guide for the season…everything for your beauty routine, to your home, even the gifts.
Sponsored by: Sally Hansen