Hot Valentine's Day Buys
Loading the player...
Videos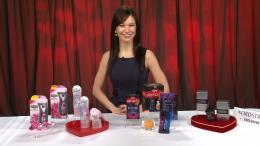 Embed code:
Copy (Ctrl-C or Command-C) and paste (Ctrl-V or Command-V) the code below to embed this video onto your site.
Check out our Terms of Usage
So where do we start—what should we have in our little Valentines survival kit?
JM: Well of course first thing's first—sexy gams! Everyone wants 'em—how to get 'em? This is my little secret…Schick Quattro for women was the first to create a high performance razor and bikini trimmer in one, with this trimstyle and this year they've given it a makeover with a new hot pink handle for Valentine's Day! 
It has 4 ultra-thin blades that give you a really close shave—and conditioning strips for added moisture, a compact pivoting head and comfortable rubber grip. With the simple flip of a handle, the trimstyle instantly becomes a battery-powered, waterproof bikini trimmer with three adjustable length options, to keep you groomed in all the right places. $10.99 at drugstores nationwide. Its awesome… check out Schick Quattro for Women's Facebook page for a little quiz to discover your dating style, share with your friends…and get a trimstyle coupon. 
And to make legs extra silky smooth, I use it with Skintimate cream shave. It's a non-aerosol shave prep that gives a moisture-locking barrier on the skin to protect and seal in moisture like crazy and gives noticeably soft, smooth legs. Infused with Aloe Vera, Vitamin E, olive butter, soy, and antioxidant white tea to leave skin looking undeniably soft and silky smooth. $3.99…a steal. 
And this is really awesome… K-Y® brand is making it easy to plan a few hours alone with your partner this Valentine's Day by offering a set of exclusive date night packs that pair their product with a voucher for $10 off movie tickets for two from moviefone.com, it's so cute! 
And when you buy $25 worth of product at Walgreens, you'll get an additional $10-voucher at the register. Pretty neat! Check out their Facebook page for more on that! 
Now, a gift for the guys…we all want them to smell good and this is the hottest fragrance, Spicebomb by Viktor & Rolf. It's exclusive to Nordstrom in store through July or at nordstrom.com. What's great about them too is that they have a major sampling program. Go in there and one of their beauty stylists (like personal shoppers but for beauty) will actually help you sample fragrances so you can pick the perfect one and while you're at it, they'll help you with cosmetics for yourself too! 
Sponsored by: SCHICK, SKINTIMATE, K-Y BRAND, NORDSTROM