Posts Tagged 'Tinsley Mortimer'
By Amy Sego
It's been absolutely frigid for New York Fashion Week, but that hasn't stopped us or the glitterati from coming out to see what designers have in mind for Spring.
Tinsley Mortimer came out in tights – nothing stops her from getting to fashion week. We've seen her there every season, no matter what the weather.
Also bumped in Ashanti. My very first summer in New York City, Ashanti was all over the radio – so she always reminds me of long, hot summer days. Also, little known fact about Ashanti: She can fit in your pocket. She's that tiny.
Stay with us dear readers. We're going to have lots more from Lincoln Center, including backstage beauty and models looking super enthusiastic about their jobs.
Tinsley Mortimer, Robert Verdi, Carson Kressley and others from the fashion community, donated their energy (literally) at the Duracell Smart Power Lab last week in NYC.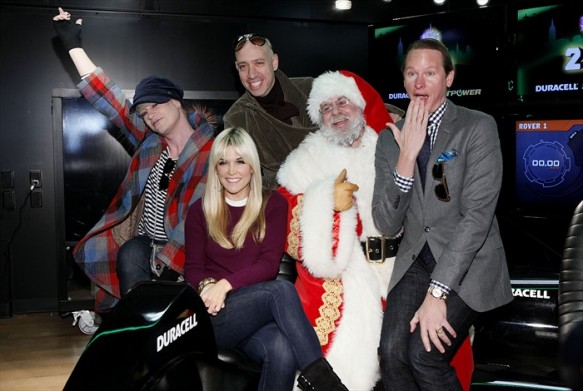 The company is using people power to illuminate the 2011 numerals in Times Square. Just visit one of their labs, hop aboard a Power Rover and start pedaling. With each push of the pedal, human energy is captured, converted and stored. The journey will end on January 1st when the stored power will light up the "2011″ sign as the New Year's Eve Ball drops and the clock strikes midnight.
Katrina Bowden (30 Rock) and Tinsley Mortimer sat front row for a peek at Michelle Smith's next Milly collection.
Backstage, Michelle told us that she took cues from the quirky, personal style of Peggy Guggenheim, and emphasized an affection for "extreme silhouettes" this Spring – either a round, flouncy skirt or a tight, pencil-cut "wiggle dress."
Cut for cut, we saw floral and geometric prints commingling down the runway. Cropped jackets popped up between coats galore. Tribal and nautical flourishes overlapped, from hardware to accessories. Contrasts were clearly defined and clearly working, making for a collection both eclectic and coherent at once.