Emmy's 2017: Big Little Lies Cleans Up
Broadcast Quality Videos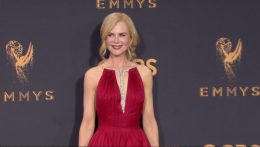 Images are available under attribution license - You must attribute LifeMinute.tv in any work or website that uses this image.
Nicole Kidman, Laura Dern, Julia Louis Dreyfus, win on and off the red carpet
By The LifeMinute Team
September 17, 2018
The 69th Primetime Emmys awards took place at the Microsoft Theater last night, in LA. The Big Little Lies cast cleaned up winning a total of eight Emmys. Complete list of winners in bold below.
Best Comedy: "Veep" (HBO)
Best Drama: "The Handmaid's Tale" (Hulu)
Best Limited Series: "Big Little Lies" (HBO)
Best Actress, Comedy: Julia Louis-Dreyfus, "Veep" (HBO)
Best Actor, Comedy: Donald Glover, "Atlanta" (FX)
Best Actress, Drama: Elisabeth Moss, "The Handmaid's Tale" (Hulu)
Best Actor, Drama: Sterling K. Brown, "This Is Us" (NBC)
Best Actress, Limited Series or TV Movie: Nicole Kidman, "Big Little Lies" (HBO)
Best Actor, Limited Series or TV Movie: Riz Ahmed, "The Night Of" (HBO)
Television Movie: "Black Mirror: San Junipero" (Netflix)
Supporting Actor, Drama: John Lithgow, "The Crown" (Netflix)
Supporting Actress, Drama: Ann Dowd, "The Handmaid's Tale" (Hulu)
Supporting Actor, Comedy: Alec Baldwin, "Saturday Night Live" (NBC)
Supporting Actress, Comedy: Kate McKinnon, "Saturday Night Live" (NBC)
Supporting Actor, Limited Series or Movie: Alexander Skarsgard, "Big Little Lies" (HBO)
Supporting Actress, Limited Series or a Movie: Laura Dern, "Big Little Lies" (HBO)