Nicole Richie Partners with Jacques Penné (JC Penney's holiday boutique) in NYC
Broadcast Quality Videos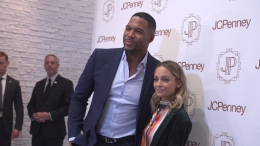 Images are available under attribution license - You must attribute LifeMinute.tv in any work or website that uses this image.
Mom, designer, and comedic actress says she likes things that make her feel good
By the LifeMinute Team
December 11, 2017
Nicole Richie is known for her fab sense of style, and now, thanks to her latest role as Portia in Tina Fey's Great News she's also a very talented comedic actress. We caught up with her in New York City this weekend at JCPenney's holiday boutique, Jacques Penné, where she's curated a stoppable holiday collection of her favorite finds. Proceeds benefit the JCPenney foundation for Moms and Kids. Shop it online at JacquesPenneJCP.com.
Sponsored