NYFW Fall 2017: The Editors Talk Trends
Broadcast Quality Videos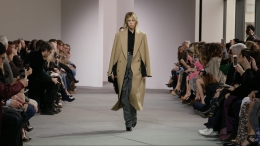 Images are available under attribution license - You must attribute LifeMinute.tv in any work or website that uses this image.
Fashion editors from Instagram, Bazaar, Elle, Marie Claire magazines and more sound off on the styles they saw this season
By The LifeMinute Team
February 17, 2017
From party-ready glitter and metallic garments to politically charged fashion, the top magazine editors give us a rundown of what was hot at New York Fashion Week Fall 2017.
Glitz and Glam
"There's not a massive change from the trends that we've already seen. So for next season we are already wearing a lot of glitter and metallic. Hey come winter next year we are going to all be wearing sequins, glitter and metallics. " – Avril Graham, Executive Fashion and Beauty Editor Harper's BAZAAR Magazine.
"There's a lot of sparkle, there's a lot of party" – Robbie Myers, Editor-in-Chief, Elle Magazine
"A lot of metallic and a lot of shine, a lot of movement, futurism is definitely in the air. But the biggest trend I would say is activism, what we call 'protest shopping', so a lot of implicit messages about the political environment right now in the clothing," – Eva Chen, Fashion Director Instagram
Androgynous Attire
"There's this trend of dressing almost is it a boy is it a girl? It could be either. There's a lot of tailoring there's a lot of suitings, there's a lot of powerful clothes."- Nina Garcia, Marie Claire, Creative Director
"A lot of menswear-inspired clothing, with a cigarette pant and a black smoking jacket."- Alina Cho, Editor at Large, Penguin Random House
Borrowing from the Past
There's still that homage to the '80s. we're still seeing lots of ruching, short skirts, lots of sheer hose. So all those '80s moments are still being revisited. There's a ton of furs, big chubby furs with lots of things around the shoulder. With slightly more naked elements around the shoulder line,"- Avril Graham
I think an overcoat is definitely the one and I think it should be one of those kind of sporty overcoats for winter. It's still about the sport, that flexibility of sports and lux."- Nina Garcia.

Makeup and Hair
"You know hair and makeup has been kind of interesting because we're seeing still that super deep plum lip. I'm seeing a lot of brown colored shadows. Ones that we wouldn't have in our makeup bags ordinarily." -Avril Graham
"I think in terms of the hair it's the individual. It's either short hair. It's either long hair or you can choose. There is a freedom of choice" – Nina Garcia