Tips on Finding the Perfect Wedding Dress from Brides Magazine
Loading the player...
Videos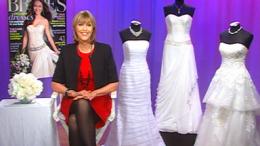 Embed code:
Copy (Ctrl-C or Command-C) and paste (Ctrl-V or Command-V) the code below to embed this video onto your site.
Check out our Terms of Usage
By: Millie Martini Bratten
'Tis the season to say "I DO"---and while picking that all important dress may very well be the most exciting part, there are a few things you'll want to determine before you begin tearing out photos of wedding gowns. Editor in Chief of BRIDES MAGAZINE, Millie Martini Bratten, has some advice on where to start!We understand over a quarter of all engagements happen over the holiday season so there is a whole new crop of brides-to-be on the market for gowns wondering where to start. What is the first thing they should think about before gown shopping?
Millie: There are so many ways to shop for a bridal gown today - from local
boutiques to mass market retailers to ipad apps! Each offers a different
experience, but before going anywhere, you need to know where you're getting
married, and how much you can spend on a dress.
Once you have an idea what you can spend, how do you know what will
look good on you? There are so many styles; can it be overwhelming?
Millie: Be prepared to try on many different styles to find what's right for you.
 Start by looking in your own closet to see what pieces you love and feel
great in. There are three of the most flattering looks that I like from
David's Bridal: The Ballgown, which is great for marrying in a banquet hall
or hotel, The Fit and Flare, which gives everyone a sexy, curvy shape, and
The Corset Dress, which gives a modern twist to a classic, and
is the winning style of our Operation Dream Dress design contest. The
dress is available exclusively at David's Bridal, which has over 300 locations
across the country.
What are some other factors to consider?
Millie: Where you'll be getting married plays a big role in the dress you
choose: If you're marrying in a garden, think light, airy and soft. A country club setting calls for clean lines and crisp fabrics, like taffeta.
If you're marrying in a restaurant, think about something short or vintage
in feel.
What about time of year? Are there different styles for different
seasons?
Millie: Definitely. You'll want to have chosen a date, or at least a season,
before you hit the stores since time-of-year will impact the kind of gown
you'll buy. If it's a summer wedding you might go with something light and
flirty or if it's a winter wedding you'll have the options of lace sleeves
or a more layered look.
Any other words of wisdom?
Millie: Keep your budget firmly in mind and don't fall in love with something
you can't afford. The good news is that stunning dresses are available
today in all price ranges. Keep in mind that embellishments like lace or elaborate beading can drive up
the price. Look for fabrics that drape beautifully to add interest, vs. additional beading, crystals or lace. Also: use a credit card - not cash - for your deposit. A paper trail is good protection for you. Choose a dress you can really move in. Remember, you're not modeling the gown - you're wearing it to your wedding and you want to look amazing while
you mingle and dance and have the time of your life.