Sustain a Healthy Lifestyle While Giving Back!
Loading the player...
Videos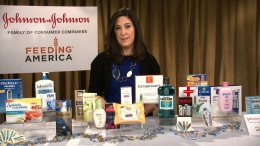 Embed code:
Copy (Ctrl-C or Command-C) and paste (Ctrl-V or Command-V) the code below to embed this video onto your site.
Check out our Terms of Usage
So, how can we give back by leading a healthier lifestyle?
EM: Well, on January 8th, you'll find a special Healthy Essentials coupon booklet in your local newspaper and online at www.healthyessentials.com with more than 185 dollars in savings on all your favorite products.  And, for every coupon redeemed through January 15th, Johnson & Johnson Family of Consumer Companies will donate one meal to Feeding America, up to 1 million meals so it's a meaningful way for you to help America's hungry while helping your family get on track in the New Year.
What are some of these products and how do they help us?
EM: Well, sometimes just your everyday essentials and products can help you stick to a healthy regimen better. It's about making smarter choices, for instance the sweetener you put in your coffee, Splenda has taken their no calorie sweetener up a notch and has come out with their new Essentials line, which has varieties that include antioxidants, fiber or b vitamins.
When it comes to skincare---everyone wants to take better care of his or her skin and with a daily moisturizer like Aveeno Positively Radiant you can multi-task. It has SPF which you should be using everyday to protect your skin, and it also boosts radiance, with a patented total soy complex that helps to visibly transform dull, tired skin into brighter, more radiant skin.
We all know that cleansing your face every night and not going to bed with your make-up on is a must for healthy skin. An easy way to stick to this routine is to have cleansing wipes on hand like Neutrogena's Make-up Remover Cleansing Towelettes. With one step they leave skin thoroughly clean, remove 99% of make-up and leave no residue so there's no need to rinse.
And now for the big one… so many people pledge to improve their oral care routine in the New Year always remember, New Year, new toothbrush. And it may sound silly, but you have to really find a toothpaste flavor you and your family will like or that two minutes of brushing is bound to turn into twenty seconds. One of the easiest ways to supercharge your oral care routine is rinsing with an antiseptic like Listerine® brushing teeth alone misses 75 percent of your mouth, leaving millions of germs behind, but adding a 30-second rinse to your morning and night time routines is all it takes to provide 24-hour protection against plaque and gingivitis germs.
Okay, now this is one of my fav little ways to turn a boo-boo into a style statement, everyone knows you have to cover wounds so they heal right? And a lot of ladies don't like to do it well BAND-AID ® has come out with a bandage designed by Cynthia Rowley ---so it's a glamorous way to cover up--talk about fashionable healing. They come in 7 different designs.
And let's not forget about the littlest ones. Did you know baby's skin loses moisture nearly two times faster than adult skin? And, with frequent washing and diaper changing, it's so easy for baby's skin to dry out. Johnson's® baby lotion -- this is the most trusted brand for baby, super mild and gentle to keep their skin soft. It's got that classic baby scent great to baby adult skin too!
Sponsored by: Johnson & Johnson