Hot List for Dads and Grads Gifts
Loading the player...
Videos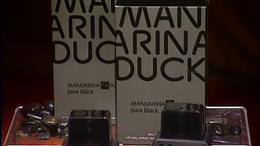 Embed code:
Copy (Ctrl-C or Command-C) and paste (Ctrl-V or Command-V) the code below to embed this video onto your site.
Check out our Terms of Usage
Graduation time is here and father's day is just around the corner. Lifestyle expert, Eric Villency has the hot list for dads and grads gifts.So whats hot for dads and grads this year? Eric: Well a good fragrance is always a great gift. Something I'm loving that really smells great on any guy is Mandarina Duck Black. It's minimal, but has exotic notes of indian pepper, bergamot, tangerine and vanilla. It's really unique and really "the" hot scent for guys right now! 58 dollars for 50 ml at Dillard's, dillards.com and fashionablefragrances.comAny hot fashion items? Eric: Sears this year is encouraging you to skip the old tie and socks and go for something all guys will really love…polos. They have a great affordable selection for father's day….these are U.S. Polo Associations' short sleeve polo shirts. Soft cotton pique…really comfortable. Has the classic embroidered pony to dress it up a bit…great for a casual work day or day out. $18 –13 different colors…a classic staple for guys, can't go wrong. For a chance to win one of these----or other great gifts for dad go to www.facebook.com/sears or sears facebook page—they're having a sweepstakes….so check it out. What about gadgets? E-toys... whats hot?Eric: Well a really nice gift to give is a camera…a great new one is from Olympus Pen E-PL1 camera. It's a small bodied camera that's packed with amazing technology..normally found in bigger, bulkier cameras and (HD) camcorders. It has interchangeable lenses, one-touch HD video. And you can toggle back and forth from taking amazing stills to amazing video. The best part retails starting at $499.