Hot Looks for the Home this Spring
Loading the player...
Videos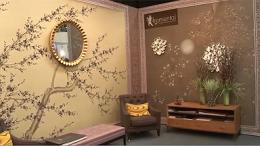 Embed code:
Copy (Ctrl-C or Command-C) and paste (Ctrl-V or Command-V) the code below to embed this video onto your site.
Check out our Terms of Usage
What's hot for the home come spring? We caught up with Architectural Digest at their 9th Annual Home Design Show for a look at the standout products new to market...everything from high-tech ovens to hand-painted wallpaper!
Jen Catto from the magazine tells us, "It's a home design enthusiast's paradise. There are over 50,000 square feet of products for both consumers and professionals alike. So whether you're starting a project from scratch or you want to source inspiration or have a free consultation with a top designer...or even if you're looking for that final piece to wrap up a room, this is the place."
Let's start in the kitchen with the new Jenn-Air Appliance collection that features high
-performance wall ovens. These ovens have the industry's most powerful convection system and an interactive culinary center that helps home chefs cook foods exactly the way they want.
Jen says, "We're seeing a lot of high tech ovens that are really functional, but also beautiful and very sleek. Jenn-Air has a new line of wall ovens that are exactly that. There's a new seven inch touch screen, you can select what kind of food you're cooking, exactly how well done you want it and even what kind of pan you're cooking it in. 
Beyond stainless steel it comes in oiled bronze, or black and white floating glass...so there are a lot of options."
They also have duct-free downdraft cooktops and microwave drawers!
And who says you can't live in glass houses. Valcucine's all-glass cabinetry is now introduced in the U.S. for the first time. It's
 100% recycleable…harder than steel and resistant to humidity.
Jen says, "It's like artwork and it is revolutionary! Valcucine eliminates the need for wood in the kitchen using stainless steel and glass making it a lot more sustainable with a much longer shelf life."
And if
 you're looking for audio/visual equipment that has won design awards, 
look no further than Harman International. But don't be fooled by the speakers' good looks. They bring movie theater sound right into your 
living room.
Also wall covering is back in a big way and Fromental's got you covered with 17th and 18th century hand painted and embroidery designs.
Jen tells us, "It is more than just wallpaper – the scenic designs don't repeat so what you end up with is this piece of art that's printed on this, very rich and silky paper."
And for one-of-a-kind lighting...hand blown glass from John Pomp Studios. Turn down the lights and you have glass art work hanging from the ceiling.
There you have it…the hot list for your home this year!