Craig Wayne Boyd: 'The Voice' Season 7 Winner is Back
Broadcast Quality Videos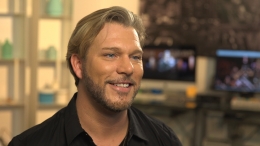 Images are available under attribution license - You must attribute LifeMinute.tv in any work or website that uses this image.
Craig Wayne Boyd, 'The Voice' Season 7 winner, debuts new album, Top Shelf
By The LifeMinute Team
November 7, 2017

"When I showed up at 'The Voice' I was really beat up," says the singer songwriter. "I was at the point of second-guessing everything, but then I got the confidence I needed."
After he won, a lot has happened to the star. "I got married. In addition to my son we have a daughter and another one on the way." The album "comes from a happy place," he says. As for the album's name? "I call it Top Shelf because I feel like a lot of people fell in love with that whisky, rugged, Southern rocker side of me."

For more information go to craigwayneboyd.com. Buy the album here.