Orange is the New Black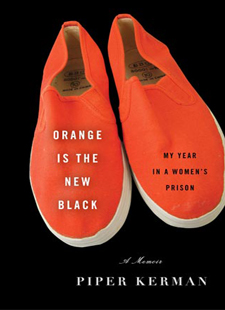 Book review by Cindy of hellodollface
Piper Kerman was young and naive when she got swept up in the world of drug trafficking. Her stint as a drug runner didn't last long and eventually, she walked away from that life, settling down and starting a career. She worked hard and began to make something of herself, the time spent in drug trafficking only a distant memory.
Years later, feds showed up with an indictment, ultimately sending Piper to jail for her crime. The smart blonde lady, the last person anyone would expect to go to jail, ended up serving time at a women's correctional facility in Danbury, Connecticut.
After reading a brief excerpt of Orange is the New Black in a magazine, I was interested to learn how Piper survived her year in a woman's prison. Piper takes us into the women's jail where there are sets of rules to follow and orders to be obeyed, and I'm not talking about the rules of the prison. The inmates have a way of doing things, a hierarchy if you will. She details her months in prison sharing with us her struggles and experiences, friendships and finding loyalties in unexpected places.
I thought it was a compelling read, interesting and well written. For more on Piper, please go to
piperkerman.com/orange