Artist to Watch: Aways Away
Loading the player...
Videos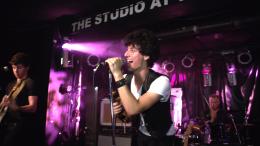 Embed code:
Copy (Ctrl-C or Command-C) and paste (Ctrl-V or Command-V) the code below to embed this video onto your site.
Check out our Terms of Usage
New York based Aways Away definitely has a unique sound that is best described as punk/indie rock. We caught up with them at their show at Webster Hall in NYC and got the scoop.
Lead singer, Evan De Augustinis feels he was meant for the industry, "I've been playing music my whole life, I grew up with music, my father played in bands his whole life…music is in my blood," he says.
So where does the inspiration come from?
"These are crazy times that we're living in, so it's not hard to make it into a song."
Their album, Some Things We'll Never Know is available now on ITunes.