'Boardwalk Empire's' Dominic Chianese
Loading the player...
Videos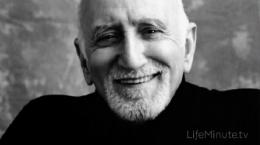 Embed code:
Copy (Ctrl-C or Command-C) and paste (Ctrl-V or Command-V) the code below to embed this video onto your site.
Check out our Terms of Usage
Chianese, who is best known for his breakout role as "Uncle Junior" on the hit HBO series "The Sopranos" says he "wasn't always sure what he wanted to do with his life." 
It's clear the star has always had a love for acting saying, "When I was a kid, I played Sky Masterson in "Guys and Dolls" and it brought the house down, everybody laughed and I thought, this is for me."
Dominic is also dedicated to helping others, his charity, Joy Through Art aims to help bring music to people in nursing homes. 
Not to worry, acting is still on his radar...the former "Sopranos" actor returned to HBO this fall on the smash hit "Boardwalk Empire." 
 "I've always been somebody who believes in doing the best I can, learning my craft, that's been my focus," he says.