Cobra Starship's "Night Shades"
Loading the player...
Videos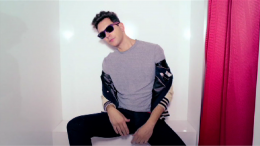 Embed code:
Copy (Ctrl-C or Command-C) and paste (Ctrl-V or Command-V) the code below to embed this video onto your site.
Check out our Terms of Usage
The Emo-popstars first hit the scene in 2006 and are best known for "Good Girls Go Bad," ft. Gossip Girl's, Leighton Meester. 
The band has been influenced by tons of artists but perhaps the most notable... JT! 
"I think Justin Timberlake was a big influence at the beginning of the band... like, kind of our reason for starting it," says frontman Gabe Saporta.
In August, the synthpop rockers released Night Shades and have since been celebrating the smash hit, "You Make Me Feel," off the LP. 
"It's our fourth studio album. We wrote it here, at our own studio in New York City, which I think lends itself a little bit to the overall sound of the record," says Blackinton.