Food Bank for New York City's 30th Anniversary Can Do Awards
Loading the player...
Videos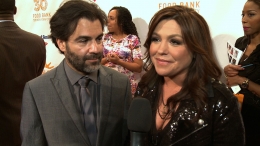 Embed code:
Copy (Ctrl-C or Command-C) and paste (Ctrl-V or Command-V) the code below to embed this video onto your site.
Check out our Terms of Usage
The celebs were out in full force to support Food Bank for New York City at their 30th anniversary Can Do Awards Dinner, and to raise not just funds, but awareness, of the food insecurity that plagues our nation.
Among the night's honorees, celebrity chef Mario Batali, who points out that one in five people in America is food insecure, not knowing from where his or her next meal will come: "This is the big Fundraiser for the Food Bank for New York City which is one of the most valid and important, in my opinion, ways to really spend your charitable contribution or time."
Carla Hall, co-host of "The Chew," adds, "More and more people are getting on board and understanding about the food insecurity in this country, and it's really important work."
Sandra Lee, of "Semi-Homemade Cooking with Sandra Lee" agrees: The Food Bank of New York City makes a difference every single day to thousands of people that you never see. And it is the difference between whether you can pay your rent or feed your children."
The star-studded event brought out more than just celebrities from the food industry. Tony Shalhoub, who hosted was among the actors in attendance to support the cause: "So tonight is a huge fundraiser. They hope to add to their coffers, to service all these people in need."
Talk show host and chef Rachael Ray notes for those in the food business, the food bank is a charity especially close to their hearts: "We're always here, because if you make your living in food, it seems like a natural place to start when you look to what you can do for community service."
And New York Giant Justin Tuck sees Food Bank of New York as one of the community's unsung heroes: "You know me and my charity have donated to the food bank, and it's just something, I think, you know, doesn't get enough pub as some of the more glamorous charities. But I think it goes a long way to helping New Yorkers out."
Actor Josh Charles was glad for the chance to celebrate the people behind Food Bank's success: "Mario is actually being honored -- Mario and Susie and Diane Sawyer. I'm just here to support him and his charity."
"I feel like I honor Mario everyday. He and his wife Susie have worked tirelessly for years for such an amazing cause. And, I mean, it's unacceptable and inexcusable that in a city where we have so much, and there's so much food that goes to waste everyday, that people are hungry," adds Anne Burrell, host of "Secrets of a Restaurant Chef."
Perhaps Batali sums up best the spirit of the evening: "We are really proud to do anything to help, drag our friends in here and kick some cash out of them. And the politics of it should be aside. You should have inalienable rights to free food or at least access to food."