The Chew's Carla Hall Tells Us How to Spice up Your Next Meal
Broadcast Quality Videos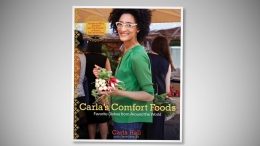 Images are available under attribution license - You must attribute LifeMinute.tv in any work or website that uses this image.
Celebrity Chef Carla Hall Spices Things Up with New Book on the Way
By The LifeMinute Team
May 8, 2017
The Chew's Carla Hall, about to write her third cookbook, Revolutionizing Soul Food, told us how to mix it up in the kitchen. The former Top Chef finalist says the easiest way to travel the world is through your taste buds by simply using spices.