Hoda Kotb's Funny Health Advice
Broadcast Quality Videos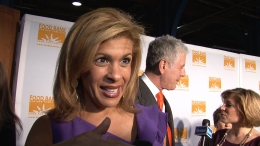 Images are available under attribution license - You must attribute LifeMinute.tv in any work or website that uses this image.
TODAY Show's newest co-anchor shares her exercise and eating secrets
By The LifeMinute Team
January 2, 2018
In honor of the New Year and today's TODAY Show announcement of their newest co-anchor, here is one of our favorite interviews with Hoda Kotb back in 2011 at the Can Do Awards in New York City. Hoda shares her favorite workout methods, biggest food temptation and how she helps squash it.