Olympic Swimmer Michael Phelps
Broadcast Quality Videos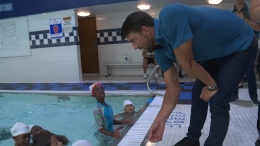 Images are available under attribution license - You must attribute LifeMinute.tv in any work or website that uses this image.
The most decorated Olympian of all time helps underprivileged youth
By The LifeMinute Team
September 27, 2017
We caught up with Olympic champ swimmer, Michael Phelps and his Foundation, Michael Phelps Foundation at the Boys and Girls Club of America. To celebrate his partnership with the Anthem Foundation to help at-risk youth establish healthy habits and live an active lifestyle. Phelps say he uses the same principals he learned as a child to teach kids, including his own son, how to swim. The Michael Phelps Foundation has already helped more than 16,000 so far and now with the support of the Anthem Foundation, they hope to reach even more health and wellness goals.
Sponsored