3.1 Phillip Lim: NYFW Spring 2012
Loading the player...
Videos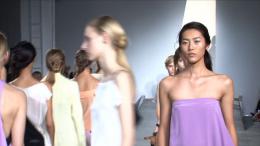 Embed code:
Copy (Ctrl-C or Command-C) and paste (Ctrl-V or Command-V) the code below to embed this video onto your site.
Check out our Terms of Usage
Phillip Lim's Spring collection is simple and elegant. 
The runway was filled with pale greys, soft pastels, sequins and jersey pieces. Chic and subdued the designer went for a neutral palette of sorbet colors on free and flowy looks --all inspired by kites. 
"The inspiration for 2012 spring was kites, simple shapes using movement. The colors, they were reminiscent of my childhood," the designer said.