BCBG Fall 2012
Loading the player...
Broadcast Quality Videos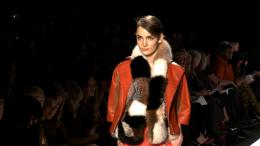 Embed code:
Copy (Ctrl-C or Command-C) and paste (Ctrl-V or Command-V) the code below to embed this video onto your site.
Images are available under attribution license - You must attribute LifeMinute.tv in any work or website that uses this image.
Max Azria's collection is all about color blocking. Mixes of taupe and black, rust and burgundy, the runway was filled with geometric accents and a frenzy of fur and leather. The silhouettes are relaxed and chic.
"The inspiration is about color." Azria said.
Definitely a 70's vibe... the pieces included; loose fitting dresses, flared pants, flowing caftans and fabulous jumpsuits.
Model, Erin Wasson was front and center for all the action. "They just do a really great job of keeping it real. They know their customer really well, they know their demographic really well, so you gotta respect that," Wasson said.