Betsey Johnson Spring 2012 | New York Fashion Week
Loading the player...
Videos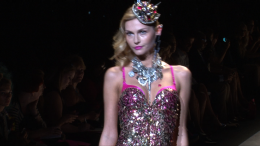 Embed code:
Copy (Ctrl-C or Command-C) and paste (Ctrl-V or Command-V) the code below to embed this video onto your site.
Check out our Terms of Usage
Betsey Johnson brought us glitz, glam and lingerie.
Models strutted down the runway in sparkly dresses, micro mini-skirts and flirty lingerie with animal print of course.
Hip Hop diva and fashion risk-taker, Nicki Minaj was front row. "Oh my God, she's a goddess, I love Betsey!" she said. 
The quirky designer says, "It's a much more beautiful version of what I usually do, a little rock and roll, pretty, sparkly..."