Jill Stuart Fall 2012
Loading the player...
Videos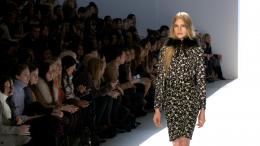 Embed code:
Copy (Ctrl-C or Command-C) and paste (Ctrl-V or Command-V) the code below to embed this video onto your site.
Check out our Terms of Usage
Appropriate fan, Twilight star, Nikki Reed, sitting front row loved the new collection..."I'm a huge fan"she says. 
The designer chose darker hues this season -- cobalt, raspberry and plenty of black, which she describes as a, "romantic, moody palette." 
All very rocker girl with a touch of sweetness. Loose fitting jackets, little black dresses with bursts of metallic, airy rose prints and exquisite embroidery add a feminine touch.
It's all about a, "beautiful play of embroideries and prints in the same motif, Stuart says. On the beauty front-- Messy, party girl-esque hair and sultry eyes; black eye liner and two tones of deep purples on top and bottom. For the lip, a light pink stain.