NYFW Spring 2018: Trend Wrap Up
Broadcast Quality Videos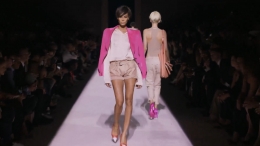 Images are available under attribution license - You must attribute LifeMinute.tv in any work or website that uses this image.
From boho looks to playful makeup, Spring 2018 is all about expressing your personal style
By The LifeMinute Team
September 21, 2017
Fashion

"There is an abundance of different ideas on the runway so you can choose what's right for you," says Fashion Editor Cynthia Leive. Pink is a huge trend, as is a loose, away-from-the-body silhouette. "We are not seeing the tight, corseted, trussed-up shapes we saw about 5 years ago," she says. Boho also continues its runway reign. "We have embraced tie dye in purple and blue," says Marie Claire Editor-In-Chief Anne Fullenwider.
Beauty

"I love the clouds of hair. It isn't super-straight and tortured anymore. It's letting your hair do its natural thing," says Leive. Makeup is fun and playful.
"Nails are the ultimate accessory," according to Morgan Hale of Morgan Taylor. "Do an accent nail or a pop of color," she says.