National Swimsuit Day!
Videos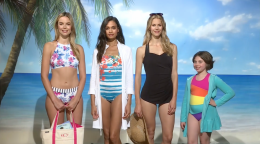 Check out our Terms of Usage
Florals, stripes, and bold colors —it's all about mixing and matching this Summer!
By The LifeMinute Team
May 24, 2017
Yesterday was National Swimsuit day and Style Expert Jené Luciani showed us all the hottest trends at affordable prices from Lands' End.
Shop all the looks at Landsend.com.
Sponsored