Stranger Things Stars Surprise Serious Watcher
Broadcast Quality Videos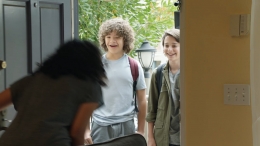 Images are available under attribution license - You must attribute LifeMinute.tv in any work or website that uses this image.
Stars of Netflix hit Stranger Things hand-deliver LG OLED TV to unsuspecting fan
By The LifeMinute Team
October 19, 2017
LG Electronics USA is at it again, surprising TV's most Serious Watchers with a serious surprise. Stars of the Netflix hit, Stranger Things, Gaten Matarazzo and Noah Schnapp show up to a fans door to deliver the goods.
Watch to see what happens...
Sponsored