Katie Holmes' Directorial Debut: All We Had
Broadcast Quality Videos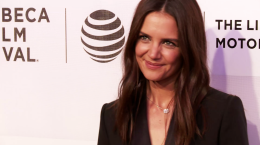 Images are available under attribution license - You must attribute LifeMinute.tv in any work or website that uses this image.
Katie Holmes debuts a mother, daughter love story at the TriBeCa Film Festival to critical praise
By The LifeMinute Team
April 22, 2016
The movie All We Had, starring in and directed by Katie Holmes, premiered at the TriBeCa film festival. The film is a "mother, daughter love story," according to Holmes, depicting "seeing the world through their eyes and how they cope with it."
Critics have described it as a "stimulating and ultimately enriching coming-of-age drama about a mother and daughter who find strength in each other." Despite many setbacks and everyday teenage angst the two learn to survive in an uncertain world. Here, the actors describe their characters' motivations and what it was like to be directed by Holmes.
"I play Pam who is a waitress in her uncle's diner. It's basically about people helping people and I think that's a really important thing."
Eve Lindley, Actress
"I knew she was going to be a great director and she was. She was really decisive and she was fun and encouraging and I was just really lucky to be there."
Judy Greer, Actress
"Katie did such a great job. Talking to her about how she found the project, what she did to get it made, and the story behind it…it's inspirational."
Mark Consuelos, Actor
"I thought there was a poetry to both of the actors."
Katie Holmes, Director