Backstage Access: The Script
Broadcast Quality Videos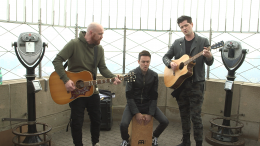 Images are available under attribution license - You must attribute LifeMinute.tv in any work or website that uses this image.
The talented Irish trio The Script conquers their fear of heights to play atop the Empire State Building
By The LifeMinute Team

September 7, 2017
The Script, consisting of band members Mark Sheehan, Glen Power and Danny O'Donoghue, has sold more than 29 million records, had four multi-platinum albums and sold over 1.4 million tickets to their must-see live shows. So why did playing 1,454 feet above the ground atop the iconic Empire State Building give them pause? Said Sheehan: "I'm scared of heights!" Fears faced, the band put on a performance of their hit "Rain" from the new album Freedom Child (#FreedomChild) to appreciative rounds of applause from the crowd. Take a look, and check out their social media at @thescript and Instagram @thescriptofficial.