Beat The Heat: Best Summer Beauty Buys
Loading the player...
Videos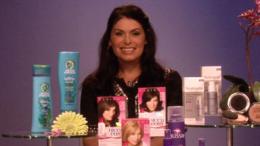 Embed code:
Copy (Ctrl-C or Command-C) and paste (Ctrl-V or Command-V) the code below to embed this video onto your site.
Check out our Terms of Usage
Summer is here and so are the season's hottest beauty buys. Beauty guru, Stacy Cox has the top 5 to beat the heat!
How to beat summer hair woes?
Stacy: Well dry, frizzy hair is one of the most common summer beauty woes….so it's so important to treat it with the right products, a good shampoo and conditioner is a must. Herbal Essences' Hello Hydration line has moisturizers and water-activated silkening ingredients that rejuvenate dry, brittle hair, and leave it shiny and replenished after just one use!
And of course going for lighter locks or a gorgeous golden hue are always the rage for summer. Clairol Nice 'n Easy color blend foam is just like the name... so easy! Just apply it with your fingertips –you have total control—no dripping or mess… just three shakes to mix and it makes the perfect foam that's easy to spread for even coverage. And lastly for your hair you're gonna want a great hairspray. I'm loving Aussie's Sun-Touched Shine Hi Hold + Hi Shine. Its amazingly lightweight but, keeps a firm hold that leaves your hair soft and touchable throughout the day.What about makeup/skincare tips?Stacy: When it comes to summer skincare, most women want a youthful, vibrant look. The best advice I give women searching for the fountain of youth is two things – retinol and broad spectrum spf protection. Retinol is one of the most trusted and proven anti-aging ingredients and recently Neutrogena launched its fastest retinol product yet – Rapid Wrinkle Repair. 100% of women saw results in just one week so this stuff has been flying off shelves! I personally like to apply retinol at night – so apply this cream nightly and you will begin to see improvement in the appearance of fine lines, deep wrinkles, and skin tone in 7 just daysWhen it comes to makeup ---something with added spf protection is key. Neutrogena's New Healthy Skin Compact Makeup has an spf 55 and helioplex technology for superior broad spectrum protection. And, if that's not enough, its lightweight texture blends easily into skin, giving you natural, flawless looking coverage.Other beauty tips/trends?
Stacy: Anything bold! Bold pink or coral lip color…even bold eyeshadows are hot this season—just pick one or the other—not both