Hottest Beauty Buys with SELF Magazine
Loading the player...
Videos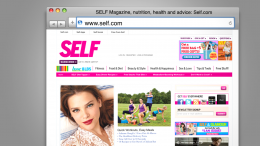 Embed code:
Copy (Ctrl-C or Command-C) and paste (Ctrl-V or Command-V) the code below to embed this video onto your site.
Check out our Terms of Usage
SELF Magazine's Beauty Director, Elaine D'Farley shares tips, tricks and the latest tools to turn your home into a private beauty spa! 
So where do we start—how to we take time for ourselves and beautify? 
ED: Well that's just it—its all about taking time for yourself…and our latest issue is all about that…and I have some things here that are quick, easy and you can do in the comfort of your own home…to look and more importantly feel fabulous! Starting with your skin—we all know that beautiful skin, makes us feel great! The first thing I have here is like a: 60 trip to the spa everyday…. Clarisonic® who patented the Sonicare toothbrush has come out with Mia the Sonic Skincare Cleanser… it works with the natural elasticity of the skin. Oscillating back and forth at a sonic frequency that produces over 300 movements per second, to deeply but gently---loosen dirt and oil, and actually lets skincare products (that you may use after)…absorb better. Clinical results show that it cleans six times more makeup and twice as much dirt/oil than manual cleansing, reduced appearance of pores, fine lines and wrinkles, oily areas dry skin patches and blemishes and improves skin tone. Totally light, compact great if you're traveling…or on the go-- it has one-button, one-speed, and takes one-minute… $119 bucks at clarisonic.com or Sephora. 
What about other things can we do at-home to feel great? 
ED: Another thing people are always asking me about is my hair---great hair goes a long way…. 
between the washing, styling, coloring, even the sun…takes a toll on our hair--- we sometimes forget to treat and protect it…something I'm loving is from Avon –its their advance techniques 3D rescue –its a leave-in treatment that uses special technology with powerful nutrients that actually seeks out chemical, mechanical and thermal styling damage and goes below the surface to infuse moisture and strengthen hair from the surface, core and ends…it instantly repairs split ends and literally repairs 3 years of hair damage in just 3 days! 9.99 from your Avon representative, www.avon.com or 1-800-for- avon. 
 
When it comes to drying your hair – what you use does make a difference, you want to look for a dryer that has an ac motor. Conair has a new collection of infinitipro ac motor dryers that are our latest obsession. The ac motors are quiet but deliver really powerful air velocity, which will dry hair faster. So less drying time and heat exposure, which means healthier, looking hair. These dryers generate neutralizing ions to seal the hair cuticle, reduce frizz and enhance shine. Their ceramic technology safely dries. Best of all, the ac motor can also live up to 3 times longer than a standard motor dryer, making them such a great investment for under $40! 
ED: Finally, one beauty must-have that will brighten your look and give you a confident, dazzling smile is the Rembrandt® Deeply White™ 2 hour whitening kit. This kit is a fast and easy solution for looking party ready, and one of my favorite whitening products. The Rembrandt® Deeply White™ 2 hour whitening kit is clinically shown to visibly whiten your teeth up to three shades in just one two-hour treatment. It starts working immediately on contact and has these cool comfytray™ applicators that mold under hot water like little mouth guards to specifically fit your mouth. The best part is that the kit works in just two hours, so you can have a white smile in time for that big holiday party or get together!
Sponsored by: Rembrandt, Avon, Conair, Clarisonic