How to Survive Summer in Style
Loading the player...
Videos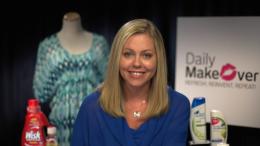 Embed code:
Copy (Ctrl-C or Command-C) and paste (Ctrl-V or Command-V) the code below to embed this video onto your site.
Check out our Terms of Usage
Dailymakeover.com's
Editor-in-Chief, Rachel Hayes has some tips and the latest buys to have us looking hot in the heat! Rachel says she constantly gets asked how to survive summer hair doldrums…the key is good products and keeping it light, she says.
Pantene
has a new Pro-V aqua light collection, a shampoo, conditioner and weightless conditioning shake… which is a leave-in spray that instantly conditions your hair and preps it for heat styling.
This new line is specifically made to really nourish and condition hair and clean it too, without weighing it down.
The brand is really re-writing the rules of conditioning with these products because they're tailored to combat the causes of heavy, lifeless hair and instead leave it bouncy and lightweight.
A lot of people experience dandruff especially in the summer time… signs of dandruff include; flakes, irritation and an uncomfortable feeling of tightness and dryness …and that's a horrible feeling.
Head & Shoulders
has come out with a new product using the brand's proprietary technology to deliver a more thorough removal of the dandruff causing organism, and remove excess oils from the hair and scalp, to leave it really fresh and clean… and it comes in a great new green apple scent which is perfect for summer.
Makeup...just like the hair, Rachel says to keep it lightweight…no heavy foundations or harsh eye makeup that will drip in the sun. Just keep it light and fresh for summer.
When it comes to fashion…it's all about bold colors and prints this season…and hemlines are short! Rachel's survival tip here is a good detergent to keep all of your fashions clean!
Wisk®
, is a detergent known for fighting the ring around the collar™" They have introduced the newest breakthrough- Wisk® deep clean™" People may not realize that body oil & sweat can build up in clothing over time- especially in the summer. Wisk Deep Clean goes beyond surface stains, penetrating deep inside the fabric, to attack hidden body oils and sweat that some other detergents can leave behind. Rachel loves it because it gives your clothes a really deep clean!