2 Spring DIY Beauty Innovations to Try NOW
Videos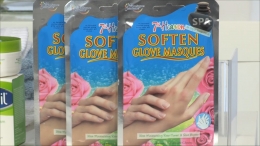 Check out our Terms of Usage
A softening glove masque for your hands and a moisturizing agent that can retain up to 1,000 times its weight in water
By The LifeMinute Team
March 22, 2017
With the new season comes brand new beauty buys. We caught up with beauty expert, Jeannine Morris in New York City, where she showed us all about them.
7th Heaven Manicure Strengthen Nail & Cuticle Masque and Soften Glove Masque
The finger masks, strengthen and revitalize nails after or between gel manicures.The Soften Glove Masque are scented with pressed roses and full of moisturizing shea butter, pressed soy beans, vitamin E, Gogiberry and ginseng to delivers perfectly soft hands whether or not you get regular manicures.
$3.97 each at Wal-Mart stores

Cetaphil New Facial Skincare Collection

The brand recommended by more dermatologist than any other brand has a new daily moisturizer and rich night cream both of which contain hyaluronic acid, a powerful moisturizing agent and essential component of skin, known for its ability to retain up to 1,000 times its weight in water. Start your day with the gentle skin cleanser and end your night with the rich hydrating cream to help re-hydrate and boost moisture.

These products are hypoallergenic, noncomedogenic, dermatologist tested and suitable for all skin types.

$9.35 - $19.99 at major retail, drug, grocery and discount stores
Sponsored