Actress Peyton List Designs NFL T-Shirt for Super Bowl LI
Videos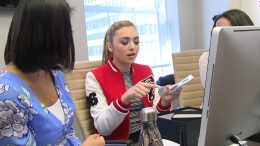 Check out our Terms of Usage
The actress and football fan puts a fun and sparkly twist on the typical game day tee
By The LifeMinute Team
January 29, 2017
Actress and NFL's Juniors ambassador, Peyton List, has turned fashion designer, creating her very own NFL t-shirt for Super Bowl LI. Peyton says she's always been a football fan growing up watching with her family, so this came easy to her.
"It''s always brought my family together and especially being a part of something so huge as the Super Bowl and being able to design a shirt for the Super Bowl is so exciting" she says.
How does she do big game day?
"It's such a big thing at my house. We always order wings ... and we'll invite friends over."
Check out Peyton List's exclusive Super Bowl LI t-shirt and more on NFLShop.com.
Sponsored