Broadway Star Laura Osnes Spills Her Get-Pretty-and-Fit Secrets (They're Not What You Think!)
Videos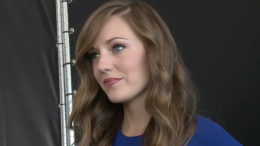 Check out our Terms of Usage
We asked two-time Tony nominee, Laura Osnes to come clean on her makeup routine (simple), hair style (natural) and fitness routines (no gym membership)!
What Is In Your Purse?
"I obviously have to have a phone to document everything, and sunglasses of course," says the singer.
Describe Your Makeup Routine.
"I usually spend some time in the morning putting a little bit of a face on. Mascara, foundation, a little bit of blush to give me some color. What's most important obviously is that you feel confident and great in what you're wearing and how you look that day," says Osnes.
What Are Your Hair Secrets?
"I have stick straight hair but I love to curl it. Sometimes I feel like I do nothing and I just leave the house with straight hair and I get so many compliments on my straight hair. Sometimes less is more," she says.
How Do You Stay Fit?
I grew up a dancer so I love to stretch and plank in my living room while I'm watching T.V," says Osnes. " I danced for a really long time so maintains my flexibility is something that is really important to me. It's doing little things. I will literally do wall squats while I am brushing my teeth. I try to be practical. I live in a 5 story walk up so I do that walk up every day and walking around New York. I don't actually don't have a gym membership so that's why I find little ways to work out whenever I can."