Holiday Hosting Tips, Tricks, and Recipes
Delicious food ideas and how to plan ahead for party perfection
From the LifeMinute.TV Team
November 29, 2022
It's holiday party season, and we're kicking it off with entertaining ideas to make it easy and fun. First up, the most important tip is to plan ahead by doing everything you can in advance. Set up all the tables and chairs and any chafing dishes in advance. Another thing you can do before the big event is to make a special holiday playlist, which is a super festive touch. Next, set up a bar, and make a signature holiday cocktail. It's festive and fun. And it eliminates having to run around making drinks all night. Guests can help themselves. Just make sure to cut up all the fruit and garnishes the night before so you can take it out of the fridge, and you're all set.
For the food, go buffet style so guests can help themselves. You can cater the food or make it weeks in advance and freeze it so that all you have to do is warm it and pop it in the chafing dishes. It's always a good idea to put holiday nuts on the tables and bar area. Planters nuts are always a crowd-pleaser, and this year they've come out with two-limited edition flavors for the holidays. Planters Kettle Cooked Butter Cinnamon Pecans is so indulgent with just a touch of sweetness and a freshly roasted crunch. For chocolate lovers, Planters Cocoa Almonds have the toasty taste of almonds with intense dark chocolate, which is rich and delicious. There's also something for everyone with their holiday classics; Planters Brittle Nut Medley, Planters Holiday Nut Crunch, Planters Winter Spiced Mix, and Planters Holiday Trio Pack. The Planters brand website has a ton of great holiday ideas and recipes. See a few of our favorites below and more at planters.com/holiday.
Planters is also giving you a chance to take your holiday party next year to the next level with a visit from Mr. Peanut, along with his 27-foot-long Nutmobile, plus $10,000 to help plan your party. Just buy one of these limited-edition goodies while supplies last and upload your receipt to planters.com/holiday by December 31. You can follow along on all the fun @mrpeanut on social channels too.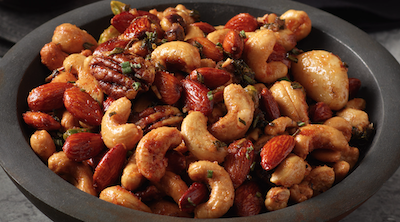 Rosemary Spiced Nuts
10 min. Prep | 20 min. Total | 8 servings
Ingredients:
2 ½ cups Planters Deluxe Lightly Salted Mixed Nuts
2 tablespoons chopped fresh rosemary
1 tablespoon melted butter
2 teaspoons dark brown sugar, packed
1 teaspoon kosher salt
½ teaspoon cayenne pepper
Directions:
-Heat oven to 350°f.
-Line rimmed baking sheet with aluminum foil.
-In large bowl, combine all ingredients.
-Place nut mixture on baking sheet. Bake 5 to 8 minutes or until fragrant and lightly toasted.
Butter Cinnamon Pecan Cheesecake
30 min. Prep | 1 hour 40 min. plus chilling time Total| 16 servings
Ingredients:
2 (5.5 - ounce) packages Planters Kettle Cooked Butter Cinnamon Pecans, divided
1½ cups graham cracker crumbs
1/3 cup sugar
1/3 cup butter, melted
3 (8-ounce) packages cream cheese, softened
1½ cups sugar
2 cups sour cream
1 teaspoon vanilla
3 eggs, room temperature, lightly beaten
Salted caramel dessert sauce, if desired
Directions:
-Heat oven to 325°f.
-In bowl of food processor, place contents of 1 package of pecans.
-Process until very finely chopped.
-Reserve remaining package for garnish.
-In large bowl, combine graham cracker crumbs, 1/3 cup chopped pecans, sugar, and butter.
-Press mixture onto the bottom and 1 inch up the side of a greased 9-inch springform pan.
-Place springform pan on a double thickness of heavy-duty foil.
-Securely wrap foil around pan.
-In large bowl, beat cream cheese and sugar until smooth.
-Beat in sour cream and vanilla.
-Add eggs; beat on low speed just until combined.
-Fold in remaining chopped pecans.
-Pour into crust.
-Place springform pan in a large baking pan; add 1 inch of hot water to larger pan.
-Bake 75 to 85 minutes, or until center is almost set.
-Remove springform pan from water bath.
-Cool 10 minutes on wire rack.
-Carefully run a knife around edge of pan to loosen; cool 1 hour longer.
-Refrigerate overnight, covering when completely cooled.
-Remove rim of pan.
-Garnish top of cheesecake with reserved pecans.
-Serve with dessert sauce, if desired.
Cocoa Almond Bark
10 min. Prep | 1 hour 10 min. Total | 12 servings

Ingredients:
16 ounces vanilla-flavored candy coating (almond bark), chopped
1 ¼ cups Planters Cocoa Almonds, divided
Directions:
-Line baking sheet with parchment or waxed paper.
-In large microwavable bowl, microwave candy coating on high 1 minute 15 seconds; stir.
-Continue microwaving and stirring in 15-second intervals until melted and smooth.
-Stir in 1 cup almonds.
-Spread mixture evenly on prepared baking sheet.
-Sprinkle remaining ¼ cup almonds evenly over top; press in lightly.
-Let stand 1 hour or until completely cooled and set.
-Break or cut into irregular 2 to 3-inch pieces.
-Store covered at room temperature.
Mixed Nut Chocolate Pie
20 min. Prep | 1 hour 10 min. Total | 8 servings

Ingredients:
1 refrigerated pie crust
3 eggs, lightly beaten
1 cup light corn syrup
⅔ cup packed dark brown sugar
⅓ cup butter, melted
1 teaspoon instant espresso coffee powder
1 ¼ cup Planters Deluxe Mixed Nuts
3 ounces bittersweet chocolate, chopped
Directions:
-Heat oven to 350°f.
-On lightly floured surface, roll pie crust into a 12-inch circle.
-Transfer to a 9-inch pie plate.
-Fold pastry under even with rim; crimp as desired.
-In large bowl whisk together eggs, corn syrup, brown sugar, butter, and espresso powder until combined.
-Stir in nuts and chocolate.
-Pour filling into pastry shell.
-Bake 45 to 50 minutes, or until filling is set in center.
-If necessary, cover crust edges with foil during last 15 to 20 minutes to prevent overbrowning.
-Cool on cooling rack.
-Store in refrigerator.