How to Make the Perfect Cinco de Mayo Guacamole
Cinco de Mayo is right around the corner and no fiesta is complete without guacamole
From the LifeMinute.TV Team
May 1, 2019
Cinco de Mayo is right around the corner and no fiesta is complete without guacamole. To elevate your guac game we enlisted Pati's Mexican Table Star and James Beard award-winning chef, Pati Jinich, for everything you need to know about avocados.
So how do we make a killer guac?
For starters you need to find the perfect avocado, but not all are the same. Pati loves Avocados from Mexico (just look for their little logo on the label.) Avocados from Mexico are healthy, delicious and always in season. This fresh fruit will provide you with nearly 20 vitamins and minerals, they're cholesterol and sodium-free, naturally good in fats and a good source of fiber.
Shopping for the perfect Avocado
If you're shopping a day or two ahead, find the ones that yield to gentle pressure and store them in the fridge until you're ready to use them. If they are a little less than ripe, you can speed up the ripening process by placing them in a brown paper bag with a banana or an apple.
What to do with leftovers?
Don't let the post-Cinco leftovers go to waste! Store any leftovers in a small, airtight container in the fridge or gently brush avocado halves with olive oil, wrap in plastic wrap and place it back in the fridge. Also lime and lemon, not only gives great taste, it also helps preserve guacamole and open avocados for an entire 24-hours.
For more recipes, tips and tricks involving avocados head to avocadosfrommexico.com.
Spice Up Your Traditional recipes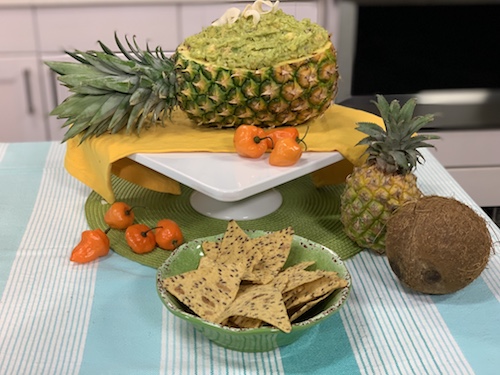 Piña Colada Guacamole
Ingredients
• 2 Avocados From Mexico, halved, pitted, & peeled
• 1/4 c. pineapples, finely diced
• 1/4 c. shredded coconut
• 1/4 c. red onion, finely diced
• 1 habanero chiles, minced
• 2 T. cilantro, finely chopped
• 1 lime, juiced
• 1 T. Jamaican style rum
• Salt to taste
• Pepper to taste
Instructions
1. In a medium bowl, mash the avocados to desired consistency.
2. Fold in pineapples coconut, onions, habanero chiles, cilantro, lime juice, and rum until well combined. Season with salt and pepper.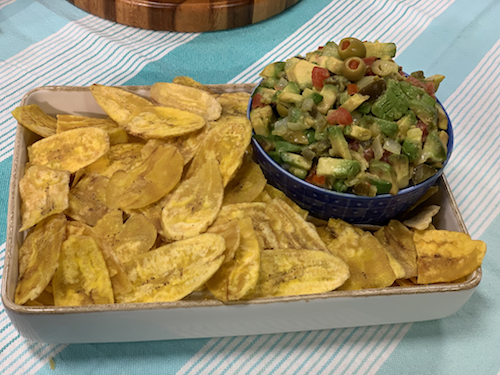 Guac a la Veracruzana with Plantain Chips
Ingredients
• 3 T. olive oil
• 2 garlic cloves, finely chopped
• 2/3 c. chopped white onion
• 1/2 lb. ripe tomatoes, seeded, cored, diced (about 2 roma tomatoes)
• 3 Avocados From Mexico, halved, pitted, peeled, and diced
• 1/4 c. pimiento stuffed manzanilla olives, sliced into thin rounds
• 1/4 c. chopped and seeded pickled jalapeños, or more to taste
• 1 T. juice from pickled jalapeño chiles
• 1 T. roughly chopped capers
• 1 T. freshly squeezed lime juice
• 2 T. chopped fresh parsley
• 2 yellow plantains, peeled and diagonally cut into ¼" slices, not green nor too blackened or ripe
• Vegetable oil for frying as needed
• Kosher or sea salt to taste
• Freshly ground black pepper to taste
Instructions
1. To prepare the guacamole: Set a medium-sized skillet over medium-high heat and add the olive oil. Once hot, add the garlic and cook, stirring constantly, for 20 to 30 seconds, until fragrant and beginning to brown. Incorporate the onions and cook for about 2 minutes, stirring constantly until softened and the edges are beginning to brown.
2. Add the tomatoes, mix well and cook for a minute, just until barely softened. Remove from the heat.
3. In a large bowl, add the avocados, olives, pickled jalapeños, juice from the jalapeños, capers, and lime juice and combine. Incorporate the tomato mixture and toss until well mixed. Taste for salt and add if need be.
4. Scrape onto a serving bowl and sprinkle with the chopped parsley.
5. To prepare the chips: Preheat oven to 375°F.
6. Place the plantain slices on a baking sheet, brush with vegetable oil, and season with salt and pepper on both sides.
7. Bake in the oven for 30 minutes until crisp and browned, flipping once halfway through, taking care that they don't burn. Remove from the oven.
8. Serve the guacamole along with the plantain chips.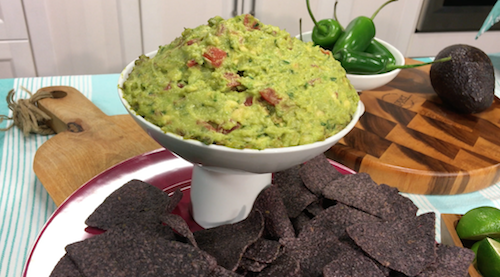 Fiesta Guacamole
Ingredients
• 1 (2-ounce) bottle TABASCO® brand Green Jalapeño Pepper Sauce (about 1/4 cup)
• 3 medium avocados, halved and pitted
• 3 tablespoons fresh lime juice
• 1/4 cup chopped fresh cilantro
• 2 tablespoons chopped onion
• 3 medium plum tomatoes, diced
• Salt to taste
Instructions
1. Scoop avocado pulp from shells into a medium bowl and mash with a fork, leaving some chunks. Gently stir in lime juice, TABASCO Green Sauce, cilantro, onion, tomatoes, and salt.
Sponsored