Pomegranate-Inspired Holiday Recipes
In honor of National Pomegranate Month this November, elevate any holiday table with these dishes
From the LifeMinute.TV Team
November 4, 2022
The holidays are here, and nothing brings people together more than delicious and nutritious foods. And one of them is pomegranates. November, in particular, gives us so many reasons to celebrate: it's National Pomegranate Month, it's POM Wonderful's 20th anniversary, and it's the start of the holiday season which means more holiday parties and delish holiday food. What we love about POM Wonderful is that you can use it to make any part of your meal more beautiful and delicious and add a boost of antioxidants. Here are four-holiday recipes using pomegranates.


POM Ricotta Crostini with POM Wonderful Pomegranate Molasses
These have a POM Molasses drizzle made from cooked pomegranate juice for a boost of antioxidants. And you may have heard that some foods lose antioxidants when cooked, but not with pomegranate juice's polyphenol antioxidants. POM Wonderful tested its pomegranate juice antioxidants during cooking, and results show that those antioxidants are tough enough to survive, even after simmering for two hours.​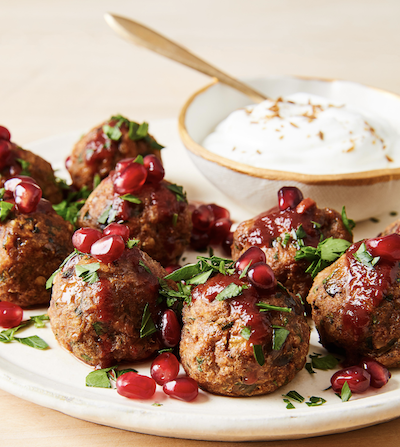 Meatless POM "Meatballs" with Pomegranate Harissa Sauce (served with couscous and roasted delicata squash)
Since cooking with pomegranate juice adds a boost of antioxidants, it's a great addition to so many recipes like these Meatless POM "Meatballs" with a Pomegranate Harissa Sauce. They are a part of a plant-powered entrée with delicata squash and couscous that would look beautiful at the center of any holiday table. In addition to having pomegranate juice in the sauce, these "meatballs" have POM Wonderful Pomegranate Fresh Arils in the mix and on top. The arils add a gorgeous bright pop of color and are a good source of fiber. There are five grams of fiber in every 4 oz container of arils. It's important to get that extra fiber, especially since most Americans don't get enough.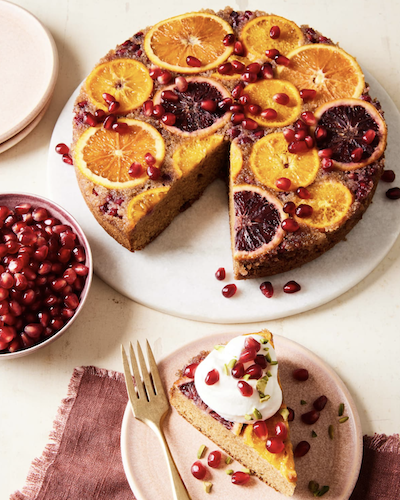 POM Jeweled Citrus Olive Oil Cake
These cups of POM Wonderful Pomegranate Fresh Arils do all the work for you and are perfect to put on everything during the holidays. They look beautiful on the POM Jeweled Citrus Olive Oil Cake, which has POM antioxidants two ways – the juice in the cake and the arils on top.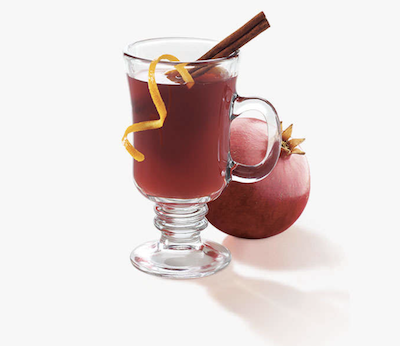 ​Spiced POM Cider
And you can't forget about the drinks. This cozy Spiced POM Cider smells so good. It has spices like anise, cardamom, and cinnamon that make your house smell like the holidays. And it's alcohol-free. So everyone can enjoy it. POM is the perfect mocktail partner. We love that POM Wonderful 100% pomegranate juice is just one ingredient, the juice of whole-pressed pomegranates, and nothing else—never any added sugars. And it has four times the antioxidants as green tea, on average. And remember, those antioxidants maintain their punch even when you heat them, so you can feel good about serving this hot and cozy Spiced Cider.
For these recipes and many more to add to your menu this holiday season, check out POMWonderful.com.