Recipes for a Healthy Spring Refresh
From snack boards to mocktails made with nothing but nutritious ingredients
From the LifeMinute.TV Team
March 3, 2023
March is National Nutrition Month, and we are sharing ways to incorporate healthy and delicious choices into a new spring routine. Spring is the perfect time to refresh, so revitalize your routine to harness the power of food, especially natural foods in their whole forms. First, keep your kitchen stocked with healthy, versatile foods that will keep you satisfied and nourish your body naturally. The Wonderful Company has high-quality products with simple ingredients that sustain your body, from pomegranate juice to pistachios to citrus.
You can make snack boards with healthy foods for friends and family to enjoy. They're easy but impressive for spring entertaining. Fill the board with nutrient-rich whole foods incorporating a variety of textures and colors while including everyone's favorites. Add protein powder to your snack board with Wonderful Pistachios, the antioxidant goodness of POM Wonderful, and vitamin C from Halos and Wonderful Seedless Lemons.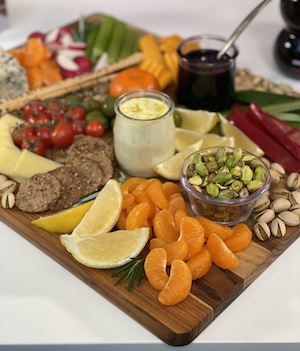 ​
Pistachios are the only good source of protein among popular snack nuts, with more than 10% of the daily value for protein per serving. Wonderful Pistachios has a variety of In-Shell and No Shells Pistachios. And their newest flavor is No Shells Sea Salt & Pepper, so you can pick your favorite to add.
Now, every snack board needs dips. Try POM molasses as a sweet dip perfect for fruits, nuts, or crackers. Make it by simmering POM Wonderful 100% Pomegranate Juice until it reduces into a syrup. Cooking with POM adds an extra antioxidant boost to any meal. Sometimes foods lose antioxidants when cooked but not with POM's polyphenol antioxidants.
Another dipping option is this Wonderful Seedless Lemon aioli which is quick to make since you don't have to pick out pesky seeds. It's delicious for dipping vegetables, and the citrus adds a healthy burst of zesty flavor and bright color to meals and drinks, making it a great swap for added sugar or salt. Wonderful Seedless Lemons are great to keep in the house for seafood, chicken, and vegetables.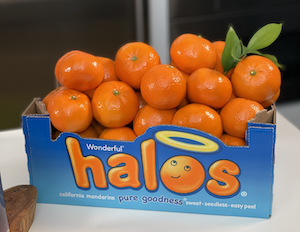 ​
To get more of those fresh, springy citrus notes, add Wonderful Halos to your next snack board for a juicy burst of sweetness and color. They are also a great addition to lunchboxes or for healthy snack swaps.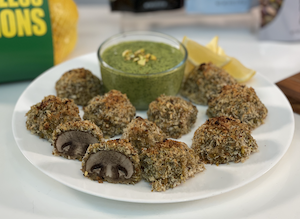 ​
If you are looking for ways to add protein to meals, we love air fryer pistachio-crusted mushrooms, which you can also add to your snack board, salad, or as an entree. The plant-based mushroom dish is crusted with Wonderful Pistachios No Shells Lightly Salted. Wonderful Pistachios are a complete protein, offering 6 grams of protein and 3 grams of fiber per serving for a delicious plant-based dish.
​
Another important part of overall health and wellness is ensuring we stay hydrated—and that doesn't just mean water. POM Wonderful 100% Pomegranate Juice is a healthy fridge staple, and it's a simple, delicious way to fuel your body with antioxidants to help fight free radicals. POM is whole-pressed to release the antioxidants in the rind, pith, and arils, with no added fillers or sugars. Ever. The sweet-yet-tart taste of POM is delicious paired with Wonderful Seedless Lemon juice, and what's great about these lemons is they are naturally seedless, so you do not have to worry about picking seeds out of any dish or drink. Plus, they are rich in Vitamin C, an essential nutrient. Try it as a refreshing mocktail.