Editors' Picks: 5 Style Staples to Add to Your Wardrobe
Videos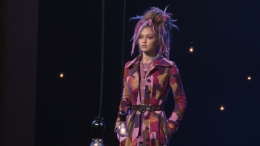 Check out our Terms of Usage
Editors from Vogue Runway, Glamour, Vanity Fair and more give their expert advice on closet must-haves
April 19, 2017
From the LifeMinute team
Simple style staples can update your look for any season. We probed some of the top fashion editors and they gave us five favorites that if you don't have already you should pick up today.
"Every girl should always have a navy blazer, every girl should have a slouchy sweater and a boyfriend jean." - Michael Carl, Fashion Director, Vanity Fair
"Flat sandals, which I love. I think the point it's nice to be able to get around on your own two feet." - Nicole Phelps, Director Vogue Runway
"You have to have a great coat. I feel like your coat, it's what people see right when you enter into the room and honestly it doesn't even matter what you are wearing underneath if you have an amazing coat."- Pandora Amoratis, Style Director, Daily Mail
"It's all about a tailor, a good tailor. I feel like 99% of our clothes, mine included, don't fit right. Like there's always something." - Andrew Bevan, Fashion Editor
"Don't overthink it. I mean the amazing thing about fashion now that there's really are no kind of hard and fast rules so I think it's about finding that thing you respond to on the runways and then working it into your existing wardrobe and not getting to caught too up in 'Oh my God am I on trend?'."- Cindy Levy, Editor-in-chief, Glamour.