NYFW Fall 2017: Tadashi Shoji
Videos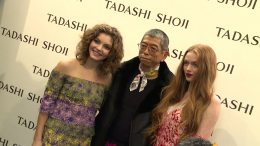 Check out our Terms of Usage
By The LifeMinute Team
January 9, 2017
For Fall 2017 takes it to the streets of London, Paris, Berlin and Japan. Totally late 60's, 70's, Jimmy Hendrix bohemian babes draped in opulence.
From long flowing velvet frocks to fur draped coats. Anti-disestablishment is the name of his game.
Floral brocades, gender-bending stripes, crisp as a guitar string, take center stage. Sensuous velvet gowns in vibrant royal blue, forest green and cardinal red make a bold statement. Illuminating sequin drapes over your body like liquid.
Some celeb spotting too, Garcelle Beauvais, Camren Bicondova, Danielle Lauder, and Dorothy Wang, were all smiles.