Selling Your Home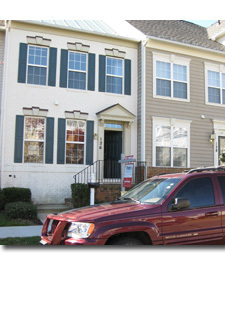 To Stage or Not to Stage?
That is the Question
By Jenna Muller
You decided to put your house on the market. Congratulations!
Whether you're trying to sell on your own or you're working with a real estate agent, the competition is fierce out there, especially since it's a buyers market.
Over the years there has been much debate about whether staging helps sell a home. Some real estate agents swear by it and some feel like it may not be as important.
I've experienced the positive effects of home staging first hand.
Here's our story:
My husband and I put his 3 bedroom townhouse up for sale in April, 2008. Located in Gaithersburg, Maryland, he purchased the house in 2000 and the community boomed thereafter, appealing to suburbanites commuting to and from Washington, D.C. When we put the house on the market, we were expecting the house to sell within a few weeks, maybe a month. We were working with a wonderful agent who hosted open houses every Sunday. However after 6 months without a single offer, we HAD to take matters into our own hands.
Prior to putting the house on the market, we installed new carpeting and painted a few rooms. The home was in good condition- hard wood floors, jacuzzi tub, central air, etc. However, what we forgot to take into consideration were neighboring sellers whose homes were more upgraded with granite countertops and stainless steel appliances. In addition, when you visited the homes, they just felt well, a bit more homey.
Our house was empty, no furniture, except for a few left over bookshelves, a chair and paintings that spoke a bit bachelor pad-ish to me. As a devoted fan of HGTV, I've watched numerous shows such as Designed to Sell, Get it Sold, and The Unsellables. Every one of them stressed the importance of staging a home.
So one weekend in September, after some convincing of my husband and in-laws, I said Let's do it. What do we have to lose? I set a budget of $2000.00 and off we went to Target, Bed, Bath & Beyond and Home Depot. We also searched Craigslist.com for affordable furniture and miscellaneous items.
In one weekend, we painted the downstairs blue bathroom and the red accent wall in the bedroom a neutral color. We de-cluttered and cleaned out closets and re-organized the garage. I bought new door knob handles and fresh towels for all 3 bathrooms. It was exhausting yet exhilarating, trying to keep the end goal in mind. It was emotional for my husband, especially since this was the first home he had ever purchased. The same weekend our agent hosted another open house. On Monday, he called and said, We have a couple from the open house who's interested and wants to come back to view the house again tonight. The next day we received an offer. We closed in October 2008. Success! Relief! What an amazing feeling.
So if you just put your house on the market or are thinking of doing so, I'd stress the importance of staging, de-cluttering, depersonalizing, and allow your potential buyer to imagine themselves living in your house.
Check out these Top 10 tips from HGTV's Matthew Finalson from the show The Stagers.
http://www.hgtv.com/real-estate/top-10-rules-of-staging-from-the-stagers/index.html
Good luck and stay positive! It worked for us.
1. Grab them from the curb.
You've seen them. Buyers hunkered low in their cars in front of your house, doing drive-bys before deciding whether to request a showing or attend an open house. Make these potential buyers fall in love with your home from the street by adding potted plants and flowers, power-washing patios and walkways, weeding the garden and mowing the lawn. It's your first chance to make a good impression, so you've got to make it count.
2. Make it sparkle.
Pretend that your mother or mother-in-law is coming for a visit. Think hotel clean. Mop, dust, vacuum, wash windows, baseboards even the cat. Remember that people will look in your cupboards, under your sinks and in your closets. Also, pay particular attention to odors. You might even consider consulting a neutral nose by having a friend come by for a smell test.
3. Pay attention to color and light.
You may love hot pink in the living room, but too-bright colors turn buyers off. Neutralize strong colors for the broadest appeal. A neutral home appears larger and has less chance of offending someone. Also, open up blinds and draperies to make sure there's sufficient natural light throughout the home. Remember, lighting is the most effective way to set a mood.
4. Depersonalize.
Few things deter buyers more than a cluttered home. They need to see your home, not your stuff. Excessive personal items like photos, collections, personal awards, electronics and collectibles will make it difficult for buyers to see past your personal style and may deter a sale. Taking yourself out of the picture makes it easier for buyers to imagine themselves, and their stuff, in your space.
5. Consider replacing furnishings.
Think about removing or replacing worn or outdated furnishings and get rid of extra pieces. The time has come to move beyond matching furniture, so break up your sets; dated can easily become eclectic with editing and rearranging. Consider consulting with a professional staging company for design direction and advice on rental furnishings to create an inviting home with broad appeal to a wide range of buyers.
6. Invest in new artwork.
Displaying new artwork is a great way to breathe new life into a room. Photography can be used to contemporize a room and add a splash of color as well.
7. Make repairs.
Make your home a high-maintenance zone. Repair squeaky doors, chipped or smudged paint as well as broken fixtures and fittings that you've neglected.
8. Apply a fresh coat of paint.
It's the best bang for your buck that will quickly refresh a dull, dated room. Slap a fresh, neutral color on the space. Choose a beige or taupe for living spaces and a neutral green or blue for bathrooms.
9. Don't forget the floors.
Get rid of worn carpets, and consider refinishing shabby hardwood floors. An inexpensive new area rug is a quick fix and can disguise the look of old floors.
10. Spring for new light fixtures.
Renew the look of the room by replacing old or dated light fixtures, door hardware, light switches and outlets. If it's tacky and older than you, get it out of there.