Back To School Essentials With Parents Magazine
Loading the player...
Videos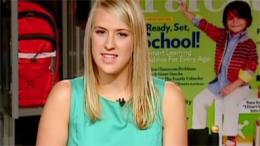 Embed code:
Copy (Ctrl-C or Command-C) and paste (Ctrl-V or Command-V) the code below to embed this video onto your site.
Check out our Terms of Usage
From the latest age appropriate fashions, to tips to getting everyone out the door, -Parents Magazine Editor, Taryn Mohrman gives us the scoop on what you need to know before school starts this year! 
 Parents Magazine partnered with Lands' End to survey parents and their kids and found that 60% of moms said getting kids off to school dressed, fed and on time is very stressful. So, why not include kids on back to school shopping? That way parents will buy clothing that kids like! 99 % of parents are looking for stylish finds that are age appropriate; we want kids to be kids. Here's a stat that will make kids happy. 3 in 5 moms really want their kids' wardrobe to reflect their personality. Here are a few quality things that are going to last, are functional and won't break the bank! 
Lands' End is a great source for finding age appropriate items things that moms and kids will both love. For boys, Its all about fatigue cargo pants and vintage graphic tees are huge for fall! Layering and mixing and matching is another big trend this year—73% of moms love mix and match because it makes everything easier. 
Now for the girls… it's all about feminine, age appropriate pieces and fall-themed prints that can easily transition into the cooler months. Pair a fun skirt with a matching tee and a toggle cardigan, which is perfect for chilly fall nights! Check out landsend.com for today's fashions and parents.com for more tips on cutting down on morning stress! 
Sponsored by: Lands' End