Duracell Hosts Galactic Experience for Children's Hospital Los Angeles to Highlight the Healing Power of Imagination
Videos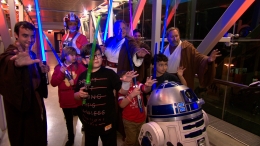 Check out our Terms of Usage
Duracell donated one million batteries to Children's Miracle Network Hospitals around the country just in time for the holidays
By the LifeMinute Team
December 8, 2016
Recently Duracell joined forces with Lucasfilm to transform Children's Hospital Los Angeles into a galactic Star Wars playground.
"We went around with two stormtroopers and R2-D2 and were handing out toys with Durcacell batteries to kids who were in Children's Hospital Los Angeles. We went room to room to surprise the kids—sometimes the parents too—with the opportunity to meet these Star Wars characters, and also to receive a toy that really meant a lot to them," said Adam Denison, Children's Miracle Network Hospitals.
The mission? To host an epic Star Wars experience, reminding patients and their families to find the 'force' within themselves as they heal.
"This holiday season we are committed to power long-lasting imagination for those who need it the most. For our holiday campaign we are donating one million batteries to one hundred and forty-six Children's Miracle Networks across the nation and today we helped to ignite the imagination of the CHLA patients with the Star Wars Galaxy Event," said Marianna Alvarez, Assistant Brand Manager, Duracell.
After joining Star Wars characters for Jedi Training, patients and their families were equipped with lightsabers, powered by Duracell, of course, to tap into the healing power of imagination.
"Children's hospitals are charitable organizations, so it is important that they have these kind of programs that often times aren't funded by insurance. Donations help to provide this type of program for kids and so we call them Child Life Programs," said Denison, "And so Duracell's donation of one million batteries to our hospitals across the United States really has given these hospitals something that they can use and put in battery powered toys or battery powered equipment, whatever it might be for use and helping these kids get better."
The company also created a 60-second Star Wars-themed video spot "How the Rebel Saved Christmas" in conjunction with Lucasfilm. You can find it on YouTube.
To learn more including how you can help, visit duracell.com.
Sponsored