Feeling Stressed? Try this New App that Connects You with Psychologists Online
Videos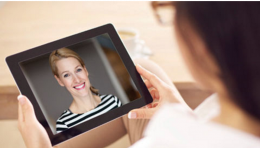 Check out our Terms of Usage
A psychologist weighs in on how to use a new app to handle stress remotely
By The LifeMinute Team
April 7, 2017
Did you know that April is Stress Awareness Month? Stress is a serious problem; the American Medical Association found that it causes more than 60% of all human diseases. It's something that is party of our everyday lives, but sometimes it can build up and become extremely hard to manage.
The experts at telemedicine's new app LiveHealth Online Psychology have some recommendations for alleviating the effects of stress:
1. Stick to your normal routine. Continue to get good rest and eat regular meals to give your body a fighting chance.
2. Engage your body as a tool when you're feeling overwhelmed. Take a few minutes to step back, do some deep breathing and stretching or take a quick walk, which counteracts stress by lowering your blood pressure and slowing down your heart rate.
2. Use your mind as a tool. Practice healthy ways to distract yourself by teaching your mind how to turn off at the end of the day. For some it is watching some mindless tv or reading a book or magazine purely for pleasure.
When Is Stress Serious?
For some people these tips are not enough. This is when it becomes important to reach out for professional help. Some signs you can benefit from professional help include noticing your work is negatively impacted. Or finding yourself withdrawing from social situations and avoiding other activists you used to really enjoy. Maybe you're irritable with your children or other family members. These are all signs that you would benefit from meeting with a therapist.
Professional Help From Home
Luckily today it is easy to get professional help through apps like LiveHealth Online Psychology, which is an app that connects patients face to face with licensed therapists and psychologists through the video in your smartphone, tablet or computer. It's convenient, private and allows you to get the help you need from home, office or anywhere you feel comfortable.
Download the free app at the App Store. Or simply go to livehealthonline.com.
Sponsored