Spring Cleaning Hacks
It's spring cleaning season and here are 5 hacks to help you do it better
From the LifeMinute.TV Team
March 17, 2021
Spring is in the air and you know what that means–time to clean. Whether you're planning a major clean sweep or just giving problem areas some extra TLC. Here are our top hacks for quick clean ups.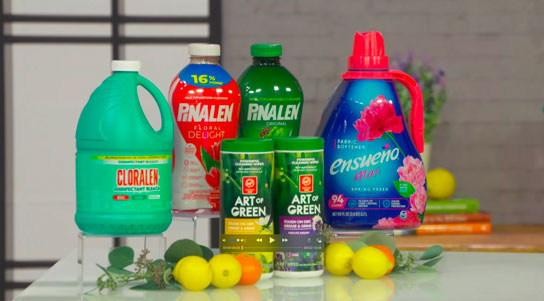 1. Create cleaning caddies for every bathroom, the kitchen and garage. Having all of your supplies ready saves tons of time. For super-fast touchups, keep a canister of Art of Green cleaning wipes (naturally-derived) in each cleaning caddy. These wipes seriously cut through grease and grime, and the scents are amazing. Best of all, they're safe for use around kids and pets and protect sensitive skin.
2. Tackle each room from top to bottom. Pine Oil is great at removing grease and oil from all sorts of things. PINALEN Pine Fresh has 5X the pine oil of other brands. Add 2 Tbs to a 32 oz spray bottle of water.
3. To clean baseboards and hard to reach areas, rubber band a microfiber cloth over the bristles of a broom to eliminate bending and crawling.
4. Mop floors with products that not only clean but sanitize. We like CLORALEN Disinfectant Bleach. Just add a ½ cup to 1.5 gallons of water and mop or scrub, then go over with water.
5. Easily get rid of soap scum by mixing 4 parts water with 1 part fabric softener and wipe down with a sponge.