Top Holiday Gifts with Redbook Magazine
Loading the player...
Videos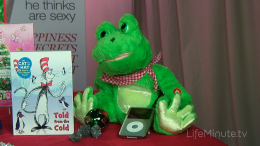 Embed code:
Copy (Ctrl-C or Command-C) and paste (Ctrl-V or Command-V) the code below to embed this video onto your site.
Check out our Terms of Usage
So where do we start – what's topping gift lists this year? 
MT: Lets start with the Nook™ Color by Barnes & Noble
 has more than 2 million books, magazines, and newspaper titles, plus apps, email and web browsing, video, ---all in amazing color…and a full touchscreen---super easy to use and you can check that out @ nook.com. 
 
Well of course fragrance is always a great gift for anyone and Eternity Calvin Klein 
is a great scent that you can get for either the man or woman on your list. For woman, it's a classic floral with notes of freesia, white lily, and sandalwood. For men its what they call a "crisp, warm, woodsy trail" 
If you have an exerciser on your list…this is the coolest…it's the Gaiam
 gym bag it has a zippered pocket on the inside so your wallet and keys won't fall out, big snap pockets on the outside and a cinch cord on the underside to keep your mat attached.
What else for the ladies? 
MT: Well what woman doesn't love jewelry … Everyone is clamoring about Pandora® 
and for the holidays they have a special sterling silver floral pendant with black crystals. And matching ring and earrings ---the silver hardware and stone…is really on trend right now. Starts at $40. Pandora.net. 
What about for the kids on your list? 
MT: Kids love DVDs---and NCircle Entertainment
 Has come out with 3 amazing ones. The first Christmas DVD from the Wiggles since 2004
…kids can sing along and learn how Christmas is celebrated all over the world! 
 
Cat's Told from the Cold: This is an animated series that whisks preschoolers on a scientific voyage –based 
off Dr. Seuss' learning library book series
 
And The Fairies' Christmas Wishes in Fairyland… hit show in Australia ---just like the wiggles but for girls! Also adorable for kids 3 and up…it's the dancing frog speaker! It's like a furry, dancing buddy…. you just plug your iPod®, iPhone® or any mp3 player with a headphone jack into its back. 
Sponsored by: Redbook