Veranda Magazine Unveils the 'House of Windsor'
Loading the player...
Videos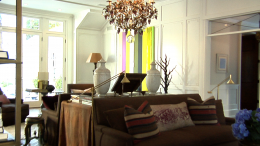 Embed code:
Copy (Ctrl-C or Command-C) and paste (Ctrl-V or Command-V) the code below to embed this video onto your site.
Check out our Terms of Usage
Want to know how to live the life of luxury?
Lifestyle and design magazine, Veranda is giving its readers a 360 degree view in their October issue that introduces the first-ever L.A. "Concept House" called "The House of Windsor."
Veranda partnered with A-list designers and "Lifestyle Architect" Windsor Smith, to build and show consumers that luxury can be attained by anyone!
Editor-in-Chief of the magazine, Dara Caponigro told us, "It just made sense for Veranda because we're a magazine about living well but we're about livable luxury …The house to me is so special because it's a luxurious house but it's a very comfortable house and I think that's the way people really want to live, I mean yes they want beautiful things but they want to be able to live in them… Design can really transform your life and it teaches people that."
"I decided to build the House of Windsor because I saw a real change happening in the way we live and all the paradigms associated with luxury have changed.  I think true luxury for us now is really a simplicity, reducing of excess in our lives, things like the clutter, white noise in our lives … so I really wanted to build a house that would answer that call," Smith said
Each of the designers were assigned to a room, and got to inject their own inspiration.
The magazine is not only "inspiring" these looks…they're giving you a chance to own them! With a special sale starting at One Kings Lane.
Sponsored by: Veranda