Easy Meal Ideas from Master Chefs: Mario Batali, Michael Symon, Katie Lee and Carla Hall Share Their Go-To Recipes
Broadcast Quality Videos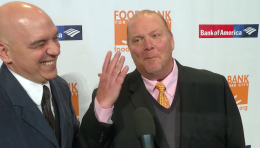 Images are available under attribution license - You must attribute LifeMinute.tv in any work or website that uses this image.
The World's Most Famous Chef's share their favorite default dishes
By The LifeMinute Team
May 31, 2017
We caught up with some of today's top culinary stars at Food Bank for New York City's Can-Do Awards to shed some light on easy meals. They say--all you need are five ingredients...
Soy Sauce Chicken Thighs
"We took boneless chicken thighs marinated them in a little bit of soy, threw them on the grill, served them with some diced honeydew, some herbs and diced onion and it was just a grilled chicken thigh with a melon relish. Super, super easy."- Michael Symon, Celebrity Chef
Flank Steak
"Get a big flank steak marinate it on the grill and then just slice it up and put it over a bed of arugula. I make a quinoa salad, a little tabbouleh with some cherry tomatoes and some cucumber, parsley mint and you got a meal that's fast...and as long as you have plenty of wine, everyone's going to be happy."- Katie Lee, Author & Food Critic
Casserole and Meatloaf
My go-to meal if I am having someone over is always some kind of casserole. Meatloaf with just beautiful, buttery mash potatoes and a veg."- Carla Hall, Chef & Host, The Chew
Keep it Home-Cooked
"The idea is to demystify simple cooking. Our battle is not with any group of restaurants, our battle is with people who think it is easier, healthier and less expensive to just go to the fast food option. You can do better than that."-Mario Batali, Celebrity Chef