Forget Feeling Run Down: Prep For A Healthy Fall
Videos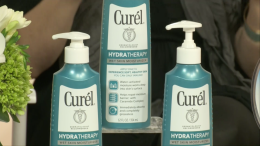 Check out our Terms of Usage
Hydrated skin, cold sore relief and shorter colds make for a happier and healthier fall season
By The LifeMinute Team
November 22, 2016
Water Activated Moisturizer
Your skin can become severely dry during the colder months. Curél Hydra Therapy Wet Skin Moisturizer works differently than your typical moisturizer. Here's how: "When you finish your shower and turn off the water, instead of grabbing your towel, grab the Curél Hydra Therapy. It goes on really wet skin.That's because it is water activated. The water helps to make it penetrate deeper into your skin for more hydration. It also has an advanced ceramide complex that's going to help your skin's moisture barrier," says Beauty and Lifestyle Expert Cheryl Kramer Kaye. It is so healing, in fact, that it won the National Excema Association's Seal of Acceptance. "And I happen to love it because I am very lazy about putting on moisturizer and it doesn't get easier than this," says Kaye.
Curél Hydra Therapy Wet Skin Moisturizer is available for $10.99 at drugstores.
Cold Sore Relief
Another problem a lot of people face during this cold and flu season is cold sores. "And that's because a fever can give you a fever blister," says Kaye. " Cold sores are not only uncomfortable but they can also be a little bit embarrassing for some people, and that's why Carmex Cold Sore Treatment is such a savior." It has 10% benzocaine which blocks pain and itching on contact. Plus it has an advanced technology to fill in and smooth out the appearance of the sore so it's less noticeable.
Carmex Cold Sore Treatment is available over the counter at drugstores.
Kick Your Cold Faster
Cold-EEZE lozenges are proven to shorten the length of a cold by almost half. Last season they introduced the multi symptom lozenges which shorten the duration and also offer relief for the symptoms of colds and flu. "Now this season they have come out with Cold-EEZE gummies. Yum! Now these are a great choice for the whole family, and they of course shorten the duration of your cold but they also help relieve your cough, congestion and your sore throat," says Kaye.
Go to coldeeze.com for more information. Find out more about these products at the individual brand web sites or your drugstore.
Sponsored