Lucinda Williams: Little Honey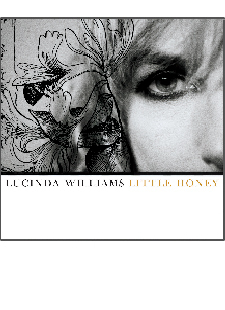 Little Honey
Label: Lost Highway
Release Date: Oct. 14, 2008
"Little Honey" is Lucinda Williams' best album since her 1998 masterpiece "Car Wheels On a Gravel Road" and her fans will know that that is saying something!
That is not to say that she hasn't been making remarkable music for the past ten years, but it seems that with this CD she allows herself to explore her rock-n-roll side a little more than in recent years.
What's great about this disc is that you get all the best of Lucinda. From the opening rocker, Real Love helped out on backing vocals by Mathew Sweet and Susanna Hoffs, to her trademark sexy smoldering vocals and introspective lyrics on Tears of Joy and Heaven Blues.
Elvis Costello also makes an appearance on the loose duet Jailhouse Tears that reveals Lucinda having some fun.
Lucinda's touring band Buick 6, are here throughout and as always flow seamlessly with her between the rave-ups and the ballads.
Little Rock Star is a song of warning to all the up and comers in the music biz to not be taken in by the trappings of fame.
Lucinda finally seems happy now that she is engaged to the records' co-producer Tom Overby and that happiness thankfully spills over onto this record.
What better way to close out an album like this than with a cover of AC/DC's rowdy and true It's A Long Way To The Top. She better than most, knows how long a way it really is.
Buy this album now